Tasting Rooms
Our indoor tasting room is located at 108 S. College Street in historic downtown Newberg, OR. Operating hours are daily from 12 noon – 6:00pm.
In January and February, we close Mondays - Thursdays.
Our indoor/outdoor vineyard tasting room is located at 9779 SE Hillview Drive in Amity, OR. Operating hours are Fridays, Saturdays and Sundays from 12 noon - 6:00pm. We also host special events at this location. No animals or children under 21.
We don't take reservations at either location; we are first-come, first-serve.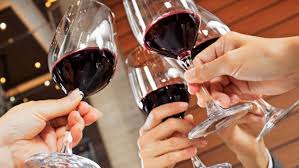 Our one-of-a-kind wine tasting bar has two unique features:
The top is white quartz. The contrast of a BIG BOLD red wine being poured and swirled over a white countertop sets the stage for a good tasting experience.

The front/side panels are red barn siding reclaimed from a 100-year old barn in Dayton, Oregon. We cut the siding into 6" squares and made the parquet pattern ourselves.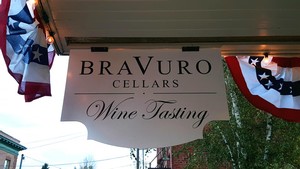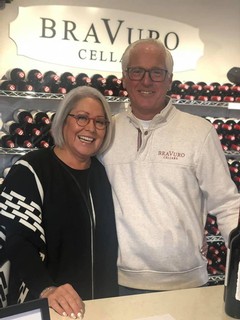 We aerate our wines by double-decanting them (i.e., pouring them into a 'Norm' Wine Breather then back into the bottle to serve). It's the world's best wine aerator that adds 10x more oxygen to the wine in just two minutes.
We don't sell our wines to any distributors... no stores, no restaurants, never will. We only sell our wines Direct-to-Consumers (DTC) from our tasting room and our website.
Many patrons enjoy taking their photos in front of our logo backdrop. They post the photos on social media to commemorate the experience.
Fodor's Travel Pacific Northwest selected Bravuro Cellars as a featured winery to visit in Oregon Wine Country.
Our Newberg tasting room is a cool 60 degrees 24/7/365 (that makes the wine happy).
Our tasting fee for a flight of five wines is only $10. And we waive a tasting fee for each bottle purchase.