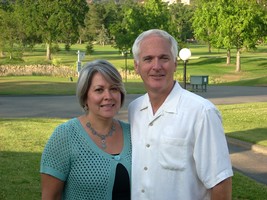 We (Steve and Luci) are partners in life and business. We met in 2005 and spent most of our time in the San Francisco Bay Area.
When we met, one of our shared interests was hot-climate, full-bodied, distinctive red wines. During the 2006 harvest, we helped a Lodi, California grape grower and winemaker crush and press his estate-grown Cabernet Sauvignon grapes and other varietals. It was our first time on the front lines of wine making, and we thoroughly enjoyed the experience.
Each subsequent year, we got more involved in the wine making process. Eventually, we picked, crushed, pressed, punched, tested, topped, analyzed, oaked, racked, blended, filtered, bottled, corked, capped, labeled, packed, shipped, poured, inventoried, marketed and tasted lots of wines.
We've visited countless wineries and tasting rooms throughout California, Oregon, Washington, Arizona and Texas; maintained an extensive wine cellar; developed sophisticated palates; belonged to 30+ wine clubs; attended countless wine club events, public wine festivals and private events; hosted many wine tasting evaluations for the Wine Tasting Institute; worked in vineyards, tasting rooms, barrel rooms, laboratories, crush pads and warehouses; and learned what we like and don't like about wines and tasting rooms.
We made wine under our Saxton-Serrato (our last names) label starting in 2009. From 2011-2015, I (Steve) was president of the Wine Tasting Institute - 'The People's Choice' of wine tasting services. My mission was to help boutique wineries market their wines and educate wine consumers.
Since I (Steve) moved out of Oregon in 1983, I've returned every year. Starting in 2005, Luci came to Oregon with me. During every visit we went wine tasting. We always enjoyed Oregon wines, and we couldn't help but notice the lack of variety. There were very few BIG BOLD red wines... the varietals that we loved and produced in California.
Meanwhile, back in California, many people encouraged us to parlay our knowledge, passion and connections into our own winery. We talked about spending 'the autumn of our lives' in Oregon. The more time passed, the more it felt right. So we decided to combine our passions to a) produce BIG BOLD red wines and b) live in Oregon.
In the fall of 2015, we moved to Oregon to open Bravuro Cellars, and we brought our BIG BOLD red wines with us... Carignane, Cinsault, Zinfandel, Rhone-style blends, Barbera, Cab Franc, Tempranillo, Malbec, Alicante Bouschet, Cabernet Sauvignon, Bordeaux-style blends, Petit Verdot, Petite Sirah, Tannat and port.
For me (Steve) it was a homecoming to the state where I was born-and-raised, graduated from college (Oregon State University) and have extended family and friends. We hope you'll visit us at our tasting room in historic downtown Newberg... the heart of Oregon Wine Country.
In 2020, we purchased a vineyard property in Amity, OR. The tasting room is open Fridays, Saturdays and Sundays. We also use the site for wine club releases, winemaker dinners in the vineyard, our annual Anniversary party, port-blending classes, and wine tastings. With sweeping views of the Willamette Valley and four mountaintops, this property amazes all who visit.
In 2022, Choice Wineries awarded us #6 on their list of 10 Best Wineries in Oregon (out of more than 900 wineries). Fodor's Travel Pacific Northwest selected us as a featured winery to visit in Oregon Wine Country.